The choice of wheels especially 4 wheeler has an age-old stigma of being masculine. Well not anymore. The leading ladies of the glam industry are step
The choice of wheels especially 4 wheeler has an age-old stigma of being masculine. Well not anymore. The leading ladies of the glam industry are stepping up the gas on the top gear. Kudos to the proud owners of hot wheels.
Being a celebrity is not easy, one has to work hard to raise to that stature. But once you have, there are some things you need to pay strong attention to, including your choice of wheels. Hence, we take a look back at some of the great buys by the leading women celebrities in India this year. Must say that Sunny Leone has good taste in automobile.
L
Sunny Leone's Maserati Ghibli
A pretty face, a huge fan following and also a dignified car collection. While Sunny already had a Maserati Quattroporte, a BMW 7-Series and an Audi A5 in her garage, the latest addition this year was the Maserati Ghibli. The Ghibli which was previously a grand tourer has been transformed into a full-size four-door sedan. It gets a twin charged V6 petrol engine that puts out to the tune of 330 hp. Her latest acquisition is yet to be launched in India, while the diesel version retails at Rs 1.14 crore. Well such personality comes with the right set of wheels and Sunny hasn't disappointed one bit.
Sakshi Tanwar's Volvo S90
While most celebrities pick German brands when it comes to luxury cars, Dangal star Sakshi Tanwar chose a Swede. Tanwar brought home in Volvo S90 in February this year. The S90 is surely Volvo's flagship sedan and compete with popular German premium executive sedans like – Mercedes-Benz E-Class, Audi A6 and BMW 5 Series. Unlike its German rivals, the S90 comes in only one variant equipped with all comfort and convenience features that the company has to offer. It retails at Rs 55.35 lakh (ex-showroom).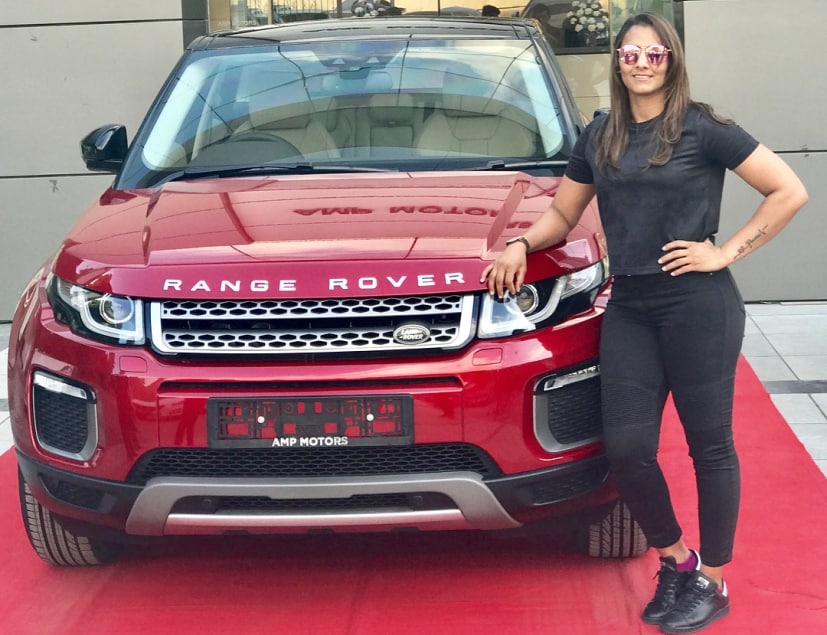 Geeta Phogat's Range Rover
She was the inspiration for hit Bollywood film Dangal, and why not Geeta has achieved numerous glories in her wrestling career. She clinched her first ever gold medal in women's wrestling in the 55kg freestyle category at the 2010 Commonwealth Games in Delhi. A picture of new prized possession on social media, a Range Rover Vogue, with a caption saying "Hard work always pays off". We couldn't agree more with her. It retails at prices starting Rs 1.6 crore (ex-showroom) in India.
Jacqueline Fernandez's New Mercedes Maybach S500
Model and winner of 2006 Miss Universe Sri Lanka beauty pageant and now a Bollywood actor, Jacqueline Fernandez owns a Range Rover Vogue and a BMW 5 Series. But now she has another super luxury car in her garage, the Mercedes Maybach S500.  A 4.7-litre V8 engine powers the car that makes 453 bhp and 700 Nm of torque with a top speed of 250 kmph. The S500 retails at Rs 1.8 crore (ex-showroom).
Taapsee Pannu's Mercedes-Benz GLE SUV
The Judwaa 2 actress, known for the strong characters she played in films like Pink and also Baby. Taapsee Pannu brought home 'Margaret' this year. Margaret happens to be a Mercedes-Benz GLE SUV. Pannu took to social media last month to welcome the GLE into her family. Mercedes-Benz GLE, post the increase in GST cess, rolls between Rs 64.06-74.58 lakh (ex-showroom, Delhi). Meanwhile Mercedes-Benz GLE is the the top-selling SUV for Mercedes-Benz India and takes on the likes of Jaguar F-Pace, Audi Q5 and BMW X5.