Top blogs and bloggers of the nation!
Top 10 blogs and the very best bloggers of India.
There are only two ways to succeed in blogging: reading and implementing. If you're not a regular reader of blogs and don't know what's going on around your niche, you can never create a successful blog that makes money. We bring you some the country's renowned names that will inspire the blogger in you.
This is another popular blog from India to read about blogging. Recently HBB also started sharing Internet and technology tips. HBB is handled by Pradeep Kumar. Pradeep is also one of the top bloggers in India who is striving to build a brand for himself.
Pradeep Lives in Chennai and mostly writes about Blogging tips.
Hell Bound Bloggers At A Glance – 
Founder/Owner – Pradeep Kumar
Started In Year – 2007
Topics Covered – Blogging, Tech Tips
Income Source – Sponsored Reviews, Adsense
Alexa Rank – ~ 64385
DA: 43/100
Hell Bound Bloggers made our list because it is one of the most old blog from India which shares Blogging tips.
---
Jago Investor, as the name suggests this is an online financial planning blog which is run by Manish Chauhan which was launched back in 2007 (over a decade ago!).
We all know how hard it is to successfully run an investment and financial planning blog and make money from it. But Manish knows not only how to easily educated his audience about saving money but also to make profits from his site.
Jago Investor At A Glance – 
Founder/Owner – Manish Chauhan
Started In Year – 2007
Topics Covered – Money saving, financial education, investment etc.
Income Source – Selling financial books, consulting, online courses
Alexa Rank – ~74,950
DA: 35/100
Jago Investor is a perfect place where you can find all the interesting stuff related to financial planning, investing and money saving.
---
This is one of my favorite Indian blogs that mainly covers all the news related to technology. This is the perfect place where you come to know about the phones, accessories, technology, new launches in India etc. This Indian blog is run by Imran Uddin and was launched in 2011.
All Tech Buzz At A Glance –
Founder/Owner – Imran Uddin
Started In Year – 2011
Topics Covered – Current Technology Updates, Phone review, Gadgets Reviews
Income Source – Adsense, Direct Ads
Alexa Rank – ~13,293
DA: 52/100
If you want to know more about the latest happenings related technology news or reviews about latest mobile phones or laptops, just open this site and you will find all the information quite interesting and valuable.
---
9Lessons – the only well known Indian blog which shares the web development tips. It was started by Srinivas Tamada who lives in Chennai.
Srinivas is also a Engineer by education and a pro blogger by profession. Since I am also from the technical background I love reading 9Lessons.info.
You can learn various web technologies like css, jquery,php etc.on this blog. Srinivas also develops his own code and also seen selling this codes online. Basically 9Lessons is a blog focusing on programming.
9Lessons At A Glance – 
Founder/Owner – Srinivas Tamada
Started In Year – 2008
Topics Covered – Programming, web technologies
Income Source – Adsense, Direct Ads
Alexa Rank – ~74716
DA: 45/100
If you really want to work on web technologies, then Srinivas will be a perfect guide for you. Because he loves web development:).
---
6) Techpp : Technology Personalized
 Techpp is India's favorite online tech magazine. The person behind Techpp is Raju PP. Raju holds an Engineering degree in Electronics and telecommunication. Raju lives in Banglore.
As the name describe "Technology Personalized" techpp shares tips to bring technology more closer to you. Along with current technology updates, techpp also shares tips and guides to make technology more friendly.
Techpp At A Glance –
Founder/Owner – Raju PP
Started In Year – 20o8
Topics Covered – Technology
Income Source – Adsense, Direct ads
Alexa Rank – ~56889
DA: 53/100
I love reading techpp as it gives a simpler way to interact with latest technology. If you want to learn some simple tips about internet, gadgets etc..techpp will be a good choice for you.
---
5) Trak.In : India Business And Technology Buzz
Trak.in is a pure Indian blog which covers all the stuff strictly related to India. Trak was started back in 2007 by an America return Arun Prabhudesai.
In a interview Arun said, India has more capability to do more than other countries but lack proper guidance and awareness. This was the main aim behind Trak. Arun now resides in Pune, Maharashtra.
Trak.in is now India's most read business blog. Along with the business news, Trak also deals with the trending technology in India.
Trak At A Glance –  
Founder/Owner – Arun Prabhudesai
Started In Year – 2007
Topics Covered – Business news
Income Source – Adsense
Alexa Rank – ~35315
DA: 53/100
---
Whenever I am feeling low, worrying about future, YourStory is what I refer reading. Yourstory is the perfect place on the web to learn how the great leader were born. This is one of the popular blogs in India that mainly covers startup related stuff to inspire people around online.
Basically, Yourstory emphasize on women power and why should not, when there are women who are such successful leaders. Shardha Sharma is the founder and editor-in-chief of Yourstory.
This blog has made a great market value in short time. It deals with success stories, business guidelines and start ups.
Your Story At A Glance – 
Founder/Owner – Shradha Sharma
Started In Year – 2010
Topics Covered – Entrepreneurship, Business guidelines.
Income Source – Adsense
Alexa Rank – ~6604
DA: 75/100
If you want to know the real women power, YS is the perfect blog. Many inspirational stories about the leaders are also shared. One of my favorite and I also recommend  this to you.
---
Fone Arena is the biggest gadget related Indian blogs which is run by Varun. This is also one of the oldest Indian blogs that was launched way back in 2005 (over a decade ago). Since then, it has grown into a massive gadget oriented blog covering all the news from computers, phones, cameras etc.
Fone Arena At A Glance – 
Founder/Owner – Varun Krishnan
Started In Year – 2005
Topics Covered – Gadgets, Cameras, Computers
Income Source – Adsense, Direct Ads
Alexa Rank – ~20,927
DA: 58/100
This is the perfect place to read about new launches of gadgets, cameras etc. So if you want to keep with the latest news and reviews related to Indian gadgets, this blog is for you.
---
2) ShoutMeLoud : Shouters Who Inspire
Shout Me Loud is India's fastest and one of the famous blogs which is run by Harsh Agrawal. Being a blogger, I love to read blogs which teaches me the real and impressive fundamentals of blogging. Harsh Agrawal is the person responsible for all the activities on ShoutMeLoud.
Harsh is a young lad and very enthusiastic to learn new thing. He is a Delhi based blogger. He writes about Blogging, WordPress, SEO and Make Money Online.
ShoutMeLoud At A Glance –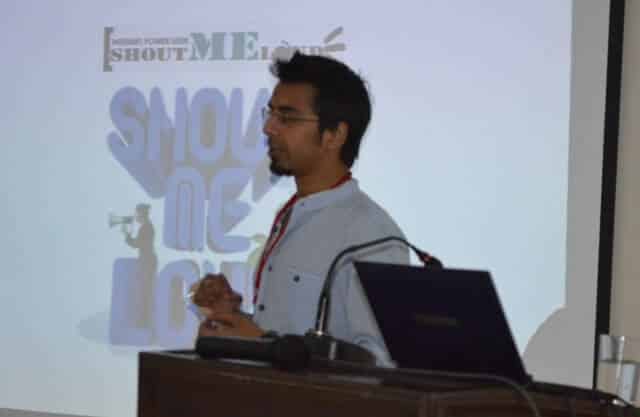 Founder/Owner – Harsh Agrawal
Started In Year – 2008
Topics Covered – Blogging, WordPress Tips, SEO
Income Source -Affiliate, Adsense, Direct Ads, Blogging & SEO Consulting
Alexa Rank – ~4929
DA: 62/100
So, if you purely want to learn how to blog, ShoutMeLoud is the perfect choice and Harsh is definitely one of the top Indian bloggers to be included in this list.
---
1) Labnol.Org : Digital Inspiration
There's a reason why I put Labnol #1 in this top blogs in India list. The reason is the guy behind it: Amit Agarwal.
This famous blog was started by Amit Agarwal with a vision to spread the culture of blogging in India. Amit quit his job to become the first professional blogger from India.
Amit holds a degree from IIT which is consider as the highest B.Tech degree in India. He is also listed in Adsense success story by Google. Amit basically writes about How-to Guides and gives solution for issues related to technology. Labnol is undoubtedly the best blogs in India where you can find technology simplified for you.
Labnol At A Glance –
Founder/Owner – Amit Agrawal
Started In Year – 2004
Topics Covered – Tech Guides, How-to Guide
Income Source – Adsense, Blog Ads
Alexa Rank – ~11737
DA (Domain Authority): 77/100
Finally, if you want a perfect tech related blog, Labnol is best. It is also internationally followed Indian blog .