'Maaru thurakkal samaram' Kerala's protest for bare breasts is crossing all limits. Nude photos on social media, activists criticisms and more.
A sexist remark by a professor of a teachers' training college in Kerala has propelled a revolution.
The incident at Kozhikode college, where the misogynist professor expressed that  Muslim girls were not wearing the hijab properly and deliberately exposing their chests like "sliced watermelon" has triggered widespread protest across the state by students with some women posting nude photographs.
Many student organizations protested outside Farook Training College, where Jouhar Munavvir T teaches, seeking action against him.
Men's nipples are 'normal' but women's nipples are a 'sexual organ'? The double standards in the way women's bodies are and the sexualization have led to several protests across the world, and a few women in Kerala are doing the same with a protest of their own. At least two women have posted bare-chested pictures on Facebook in recent weeks – and both of their photos were taken down by the social media platform.
The idea for the campaign was floated by a woman named Arathy. Titled 'Maaru thurakkal samaram', which loosely translates to 'protest to bare the breasts.'
They said they will send slices of watermelons to the teacher just like the 'Pink Chaddi' campaign in response to the attack on women in a pub in Mangaluru in 2009 by activists of rightwing fringe group Sri Ram Sene.
"We will flood him with watermelons," student activist P Ajitha said.
According to a popular news channel, 25-year-old Arathy SA was among those, who posted a nude picture, and that and her husband too shared the photo.
"I am upset with hypersexualization of breasts by people. Whether it be professors in college or social media users seeing a model breastfeed and pose for a magazine. So I and my husband posted pictures of me nude". Arathy candidly said to the news agency.
"Just because people may find my breasts attractive, doesn't mean they have the right to violate me or my body". Arathy adds to her statement.
Activist and model Rehana Fathima joined the campaign on Monday. Alongside with her friend and activist Diya Sana sharing two of Rehana's photographs on Facebook. One photo showed Rehana holding two watermelons in front of her breasts. The other showed her bare-chested, hiding her face with a melon.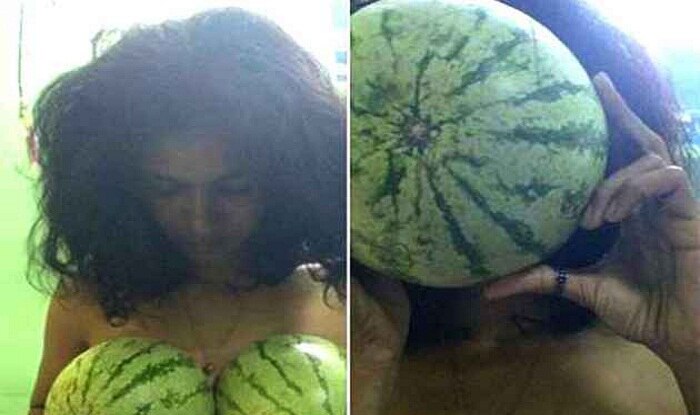 Consequences of the protest
These bold actions by these strong women are amidst a lot of criticism. Even social media giant, Facebook has taken down the protest photographs. The photos are constantly stirring the mix of social sentiments. Meanwhile, several people are abusing the women – especially Rehana – for posting the buck naked photo.
Critics and feminists are also questioning Rehana's move of not posting the photo on her own account. But on Diya's – while Diya herself did not participate in the campaign. The fact that Rehana is a model and nature of the photographs depicts sexualization of female bodies. These activities are under the consideration of publicity stunt and feminists are also criticizing the act.