Massive step to curb black money and other tax issues has been taken by Indian Government to cancel 1.14 Million Pan cards.
Mumbai: Indian government has taken a massive step to cancel and deactivate 1.14 Million Pan cards which are duplicate, fake and fraudulent to reduce risks of Tax Ivasion, Occurence of black money etc.
After few months linking adhaar with pan card, verification process hs been taken place for months. Later the Pan cards which are found to be fake or duplicate are deactivated.
Since November 8 last year when the high value notes of Rs 1,000 and Rs 500 denominations were scrapped, the government has undertaken a number of initiatives to curb black money and counterfeiting of Indian currency notes. Issuance of electoral bonds that caps political funding at Rs 2,000 forms part of those efforts.
The most prominent step toward achieving that goal may be attributed to government's last week's action under which it deleted or cancelled as many as 11.44 lakh PAN cards as they were found to be duplicate or fake. This crackdown on multiple PAN cards was necessary to prevent identity theft and purchase of benami properties.
In India, there are over 32 lakh PAN cards of which a large chunk that is 11.44 lakh government deleted after vetting the tax records. Your PAN card may be part of the deleted or cancelled lot. If you don't know whether your PAN card is still active or not, you can follow these simple steps and check whether your PAN card was deleted or not: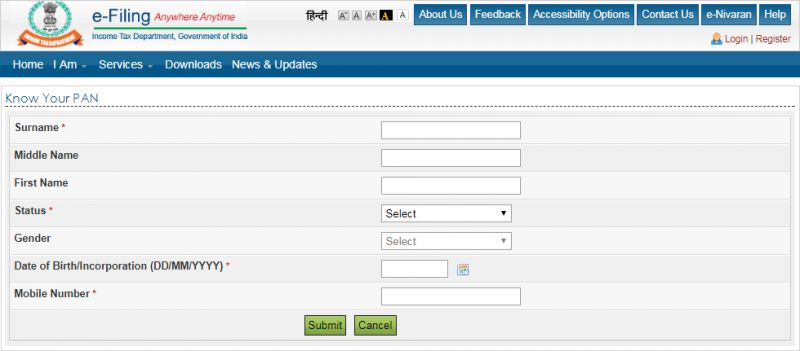 Fill above empty sections and validate your PAN card.
Steps to follow
1- The very first thing you have to do is to log on to the income tax India website . This site is mainly used to file income tax returns where users can also e-verify them.
2- The second step requires you to click on Services tab in which you will find a 'Know Your PAN' sub-tab.
3- In the Know Your PAN section you need to fill some personal details like surname, middle name, first name, status, date of birth and gender etc.
4- After filling all the details, submit the data, the click will take you to next step wherein you will get a One Time Password in your registered mobile number. After submitting the OTP, just click on validate button.
5- Now you will get a remarks section that will help you to understand the status of your PAN card.