Ivanka Trump has arrived in Hyderabad for the Global Entrepreneurship Summit co-hosted by India and the US. Ms Trump will address the GES.
Hyderabad Welcomes Ivanka Trump
Ivanka Trump, the daughter of US President Donald Trump and his advisor, arrived in Hyderabad in the early hours of Tuesday for the Global Entrepreneurship Summit co-hosted by India and the US. Ms Trump and Prime Minister Narendra Modi will address the annual summit occuring for the first time in India.
This is Ivanka Trump's first big solo outing in the international stage. She has been to India before but this time, she is here as President Trump's most trusted advisor.
The theme for the three-day summit beginning later today is "Women First, Prosperity for All", tweets PM Modi.
Ivanka Trump's 350-member delegation includes top administration officials and a large number of Indian-Americans. The summit will also feature 1,200 young entrepreneurs, mostly women. The youngest person attending the meet is 13, say officials.
Ivanka Trump was invited for the summit earlier this year by PM Modi during a visit to the US.
Hyderabad has virtually shut down to make for smooth movement for the summit. The police have announced traffic restrictions that have forced many schools to call a holiday.
Warm welcome to a special guest. Advisor to the President of the USA @IvankaTrump arrives in Hyderabad. She is leading the US delegation to the eighth edition of Global Entrepreneurship Summit 2017 pic.twitter.com/HNh29RNAfg

— Raveesh Kumar (@MEAIndia) November 27, 2017
Ms Trump will deliver the keynote address at the inaugural session, along with PM Modi. As a part of the schedule she will also  speak at another session tomorrow.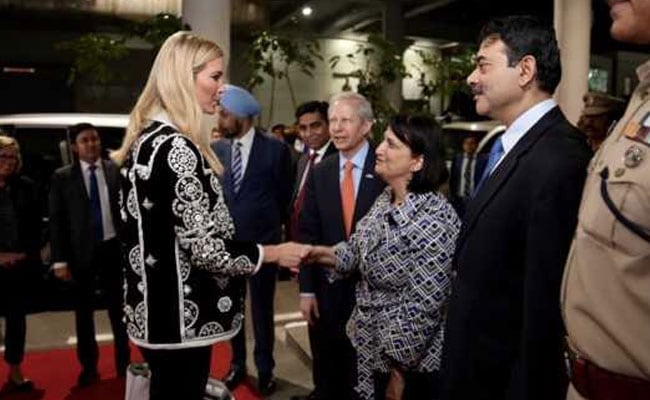 This evening, the Prime Minister will host a dinner for the US President's daughter at Hyderabad's Falaknuma Palace, which is lighting up spectacularly for the event. The India visit is amidst clouds by US media reports questioning Ivanka Trump's clothing line and its supply chain.  In addition to that a snub by Rex Tillerson, the US secretary of state, refusal to send senior staff with her to India.
Deployment of more than 10,000 security personnel as part of the security arrangement, which saw supervision by the Special Protection Group as well as the US Secret Service. Among other measures, the city officials have filled up potholes, covered manholes and cleared beggars off the streets. During her visit, Ms Trump will visit the old city as well as the Charminar, the iconic symbol of Hyderabad. She is also likely to shop at Laad Bazaar or Choodi Bazaar, which is famous for its bangles, semi-precious stones, pearls, jewellery and silverware.