Ivanka Trump, Prime Minister Narendra Modi and other guests at the G.E.S. Summit enjoyed a five-course delicacy dinner at the world's longest dining table!
Ivanka Trump, Prime Minister Narendra Modi and other guests at the G.E.S. Summit enjoyed a five-course delicacy dinner at Hyderabad's spectacular Falaknuma Palace last evening. The servings was on the Nizam-era "101 table", the longest dining table in the world. Gosht shikampuri kebab, Khubani ke malai kofta, Murgpista ka salan and Sitaphal kulfi were the stars on the menu inspiration coming from the Nizam's kitchen.
PM Modi was proud hosting the lavish dinner for Ivanka Trump. The daughter of U.S. President Donald Trump and his closest advisor, who is leading a 360-member delegation from the U.S. to the G.E.S. Global Entrepreneurship Summit.
Besides PM Modi and Ivanka Trump, the diners on 101 table included Chief Minister K Chandrasekhara Rao, Telangana Governor ESL Narasimhan, ICICI CEO Chanda Kochhar, Niti Aayog CEO Amitabh Kant and Tata Sons Chairman N. Chandrashekaran.
The palace's team of culinary experts, led by Executive Chef Sajesh Nair, presented a five-course menu inspired by Hyderabadi, Telangana and Nizami cuisine.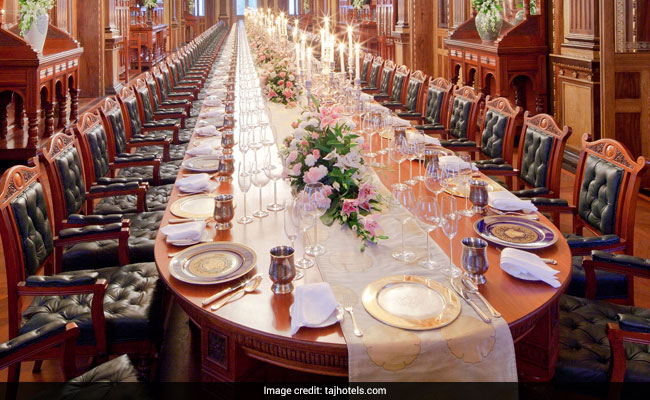 The Guest Servings included Aghaz (soup), Mezban (appetizers), Waqfa (sorbet), Mashgool Dastarkhwan (main course) and also Zauq-e-shahi (dessert).
The signature menu gave the guests a taste of rare Indian ingredients. Which includes items such as sandalwood, saffron and figs, confirms the palace hotel.
"Our chefs have worked tirelessly to recreate a unique dining experience from the Nizam's kitchen and we are certain to create memories for PM Modi and Ms. Trump that will last a lifetime," Ritesh Sharma, GM, Taj Falaknuma Palace confirms.
Rare artefacts and silver decorative pieces were brought in from the Nizam's private collection at Chowmahalla Palace; while all upholstery used during the dinner was made with locally sourced fabrics such as Ikkat, Teliya and Velvet.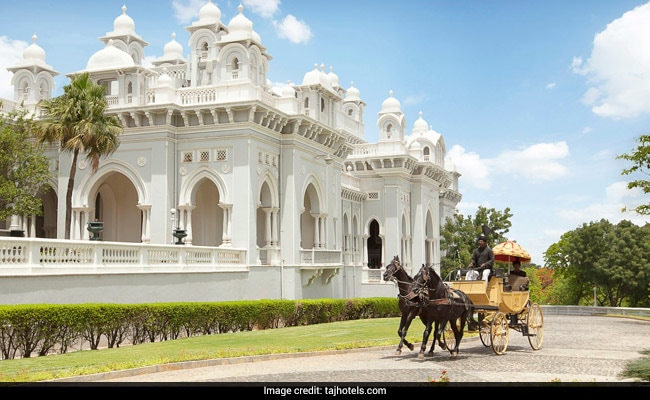 Ivanka Trump greetings with a traditional 'aarti' and lighting of the lamp ceremony was really heartwarming. Everyone else saw a typical Hyderabadi welcome with 'mogras' and rose flowers.
Meanwhile personal butlers in traditional sherwanis and vibrant headgear served the 5-course dinner.
The elaborate dining plan with the palace's premium collection of glassware and silverware was in showcase. In addition to personalised menus for each guest. A gong signal marked each course and a personal butler served each of the 101 diners.
Falaknuma in the city's old quarters was home to the sixth Nizam, Mir Mahboob Ali Khan, who died in 1911. A decade ago, the Taj Group transformed it into a hotel.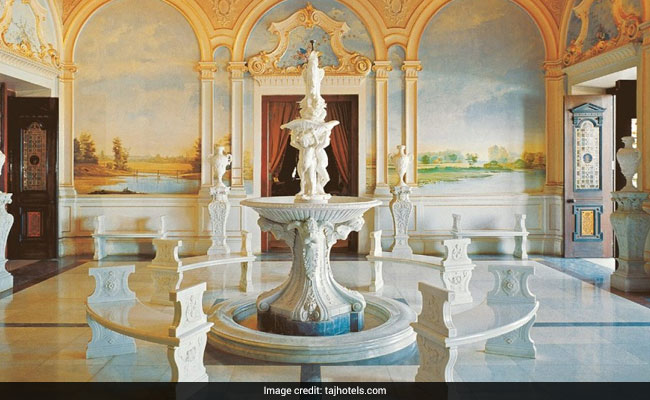 In her keynote address to the summit, Ivanka Trump was all praise for PM Modi saying: "What you are achieving is surely extraordinary… from your childhood selling tea to election as India's Prime Minister."
She also quoted her father Donald Trump to say that "India has a true friend in the White House."
Sources say PM Modi gifted Ivanka Trump a wooden box embellished with Sadeli craft – a form of marquetry that originated in Iran and has flourished in Surat. The high skill craft involves fabricating geometric patterns in wood, which is a traditional door decor, windows, furniture, jewellery boxes, containers and photo frames.