Ed Sheeran 's Mumbai concert was a part of his Divide tour. The singer sported a blue kurta, tried Indian delicacies and even danced to a Bollywood song!
Well if you hum to shape of you, you probably know Ed Sheeran! Yes we are talking about his recent India-tour and how it was really a treat for fans or The 'Sheerios'. (As Ed's fans call themselves).
With all the arrangements and such a lovely crowd we witness a perfect gig at Ed Sheeran 's concert in Mumbai earlier this sunday.
Wait, this was not the end of Ed Sheeran's Mumbai trip. After a great party with the Bollywood stars, Ed indulgence in India's culinary treats made him super happy. When in India, how can someone miss our lip-smacking delicacies? Yes, we are talking about tempting chicken tikka and chhole bhature, which Ed had after his fantastic event at the Jio Gardens. A source says: "Ed retreated to his hotel after the show. Having tasted Indian fare at Farah's party, he was keen to try out more delicacies. He gorged on dishes like paneer bhurji, garlic naan, chhole bhature, biryani and chicken tikka."
Ed's fans went crazy at the concert, where the singer sang some of his hit songs like A Team and Don't. What attracted the audience most was the 26-year-old singer's blue kurta(and we can't agree more), which was inspired by the cover of his Divide album. Well, Ed's blue kurta (with the name of his album written in Hindi at the back) has an interesting story behind it.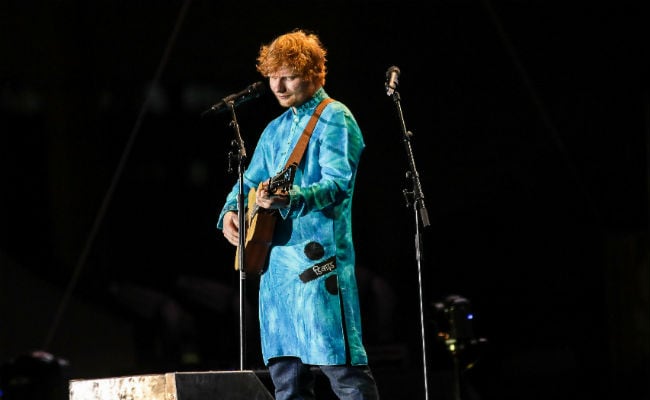 The eye-catching dupion silk blue kurta was a masterpiece and gift to Ed Sheeran by Farzana Cama Balpande, an entrepreneur with the concert. The Sheerios  instantly fell in love with Ed in his Indian attire.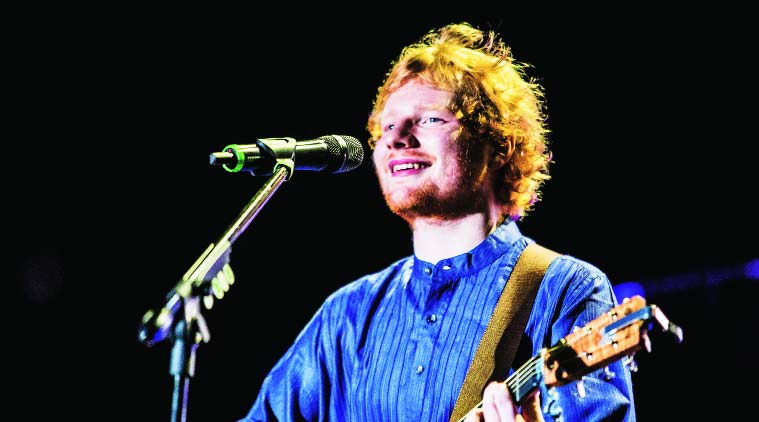 Ed Sheeran also received a personalised gift hamper that brought him a little closer to the Indian culture. The hamper included a beautiful flute, Ed Sheeran's favourite gingerbread cookies, Kolhapuri chappals, a postcard and a mug among many other things.
A few snaps of the pop-star.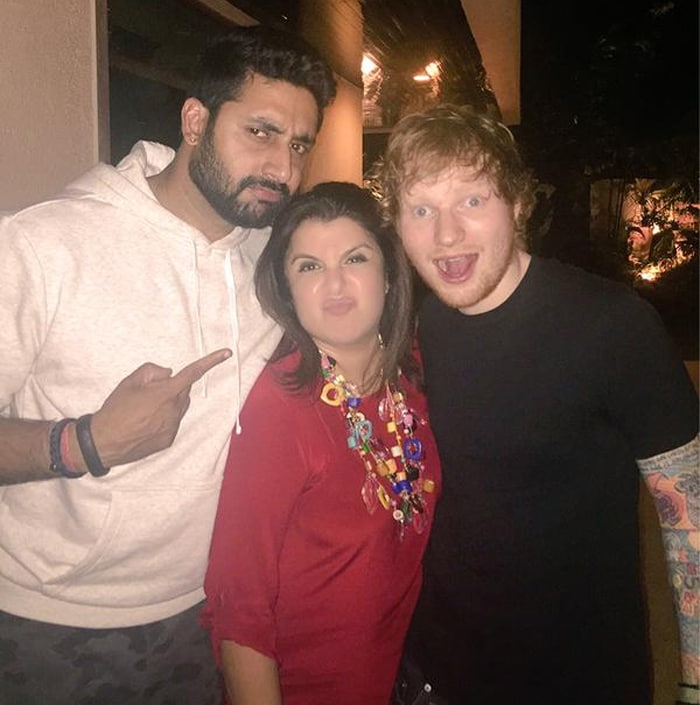 According to reports that Ed, who left for Dubai yesterday, loved the kurta so much that he took it along.
Ed Sheeran also took out time to interact with some of his fans. "He met three physically challenged teenagers, who had dropped in at his hotel," a source told mid-day.
Ed Sheeran's Mumbai concert was a part of his Divide tour. The singer arrived in India on Friday and spent Saturday night partying at Farah Khan's home. The party surely had her Bollywood friends including Shah Rukh Khan, Malaika Arora, Shahid Kapoor and Janhvi Kapoor among others.
This was not it! Surely not the end!
The  'Shape of You' star was shaking his legs on Badrinath Ki Dulhania track and Internet is going crazy over his moves. Watch the video here:
Meanwhile the Farah Khan party selfies gave Twitterati some serious content for hillarious meme. And believe us these are surely gonna make your day 😀
The trolls went viral saying that Ed Sheeran's expressions were of 'cry for help'. It was like the popstar was stuck among people whom he hardly knew. The way Ed Sheeran posed in the selfies had many netizens thinking that he was being forced to click pictures with them. He posed patiently with every celebrity present under the roof that time. But Twitter can't fail to notice his 'awkward' expressions in the pictures.
The industry chose to remain ignorant of his plight, Twitterati saw what they didn't- His awkwardness!
Take a look at the popular Ed Sheeran Memes: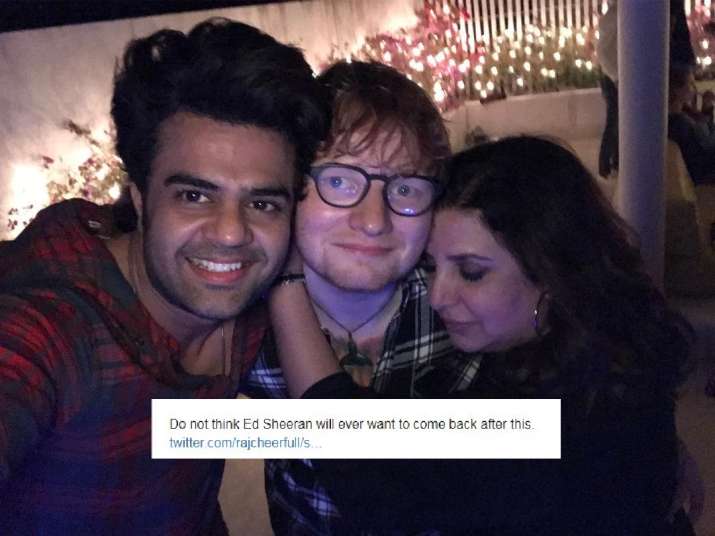 When u are done with the show and waiting for the cheque.#EdSheeranIndia pic.twitter.com/XZjMEOFskm

— angadi suresh (@angadisuresh93) November 20, 2017
That one friend who have no clue what personal space is. #FarahKhan is that clingy friend.#EdSheeranIndia pic.twitter.com/2RaD6y7gRf

— Amby Says (@ambyism) November 20, 2017
Ed Sheeran partying with Bollywood's elite is morse coding us with dead eyes and plastic smiles, begging to be saved. pic.twitter.com/iPpkE0awsU

— Ammāl (@vforvelvetta) November 19, 2017
Inner Ed Sheeran after getting captured in so many pics at Farah khan's Party last night #edSheeranIndia #edSheeRan ? #edsheeranMumbai #bakshDobollywood pic.twitter.com/PMSwWonTIp

— Invincible _Obito (@Raju1221) November 19, 2017
— ? (@prtxt) November 19, 2017
We hope Ed returns to India soon.