Television actress Shilpa Shinde, also the winner of Bigg Boss Season 11, 'does not want to act in shows,' she told news agency IANS. Shilpa became po
Television actress Shilpa Shinde, also the winner of Bigg Boss Season 11, 'does not want to act in shows,' she told news agency IANS. Shilpa became popular after starring in Bhabi Ji Ghar Par Hai!. "I would rather explore the medium of films than television. After working for so many years, the way few people of the industry (referring to the producers of Bhabi Ji Ghar Par Hai!) treated me, I am disheartened. I do not wish to work in the TV industry anymore."
In 2016, Shilpa Shinde left the show due to some issues with the makers. She also reportedly filed a sexual harassment complaint against the producer.
"It is tough for an actress to raise her voice on sexual harassment because the chances are they will question your character, they will ruin your career and they will defeat you in the power game. So one has to be very strong to fight against these white collar mafias," said Shilpa. She portrayed the role of Angoori Bhabhi in Bhabi Ji Ghar Par Hai!
Vikas Gupta, who was one of the co-producers of Bhabi Ji Ghar Par Hai!, entered Bigg Boss 11 with Shilpa. The duo often engaged in arguments during the entire journey.
Of her Bigg Boss 11 journey, Shilpa shares the following.  "Though I knew from the beginning that I deserve to win the show, it is a different world inside the Bigg Boss house. It was a journey with lots of emotional ups and down. At this moment, It is a little overwhelming to talk much about it. But of course, I am glad I won."

She also revealed her strategy and said, "My confidence to win Bigg Boss did not come from the number of fans I had before entering the house. I am always confident that I am a good person. I have a lot of patience and tolerance, so I was confident to fight the game on that basis."
Shilpa Shinde, Vikas Gupta, Hina Khan and Puneesh Sharma were the final four contestants of Bigg Boss 11. She was declared the winner by host Salman Khan while Hina was the first runner-up. Shilpa took home Rs. 44 lakh as prize money and the Bigg Boss 11 trophy.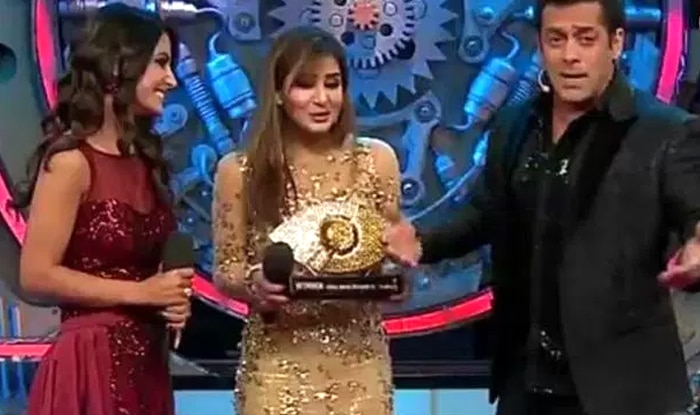 Shilpa has acted in shows like Sanjeevani, Maayka, Chidiya Ghar and Lapataganj. "See, in the last 15 years, people did not love me, but the characters that I played. They did not know how I am in real life as Shilpa Shinde. So now, everyone, who voted for me, they know my real self," she concluded.