Apple reportedly invests in its own MicroLED screens.The first device with one would probably be a future Apple Watch. The company has declined comments.
The quite acquisition LuxVue in 2014 will now make sense for all the Apple enthusiasts. In a quiet takeover, Apple got their hands on the company that was working on low-power MicroL.E.D. Display technology.
Meanwhile, in California Apple has a secret lab testing this microL.E.D. Displays. The iPhone makers are investing a hefty funding for this project and the rumors are true. The secret project has the code-name of T159. The operations are supervised by Lynn Youngs, who is in charge of iPhone and Apple Watch screen technology. A report from Bloomberg confirms the news. And matter of fact, the fans are also aware of this condition.
In a striking similarity with O.L.E.D. (Like in the Apple Watch and now iPhone X), MicroL.E.D. Tech doesn't need a backlight, so it could provide better contrast while using less power. But the only thing holding back commercial production is the assembly process.  The integration takes place one sub-pixel at a time (each pixel requires three),  making it a tedious job.
Meanwhile, in market competition, archrivals Samsung plans to release its Wall modular television built with MicroLED in August.
The chatter claims that Apple manufactured its first Apple Watch MicroL.E.D. Prototype last year, and the device is a platform for an initial target for the technology. The "T159" project where engineers are working on design and production is reportedly ongoing inside a large manufacturing facility in Santa Clara. The implementation could be revolutionary as it works on a way to replace technology designed by competitors like Samsung and LG. Just like the custom-designed processors used in its mobile devices, Apple would still likely have others build the actual displays, but if it's first to MicroLED then it could offer another level of quality (and power-efficiency) than anyone else can provide.
Apple Inc      : – 
178.02   
AAPL.O NASDAQ  :  -0.63(-0.35%)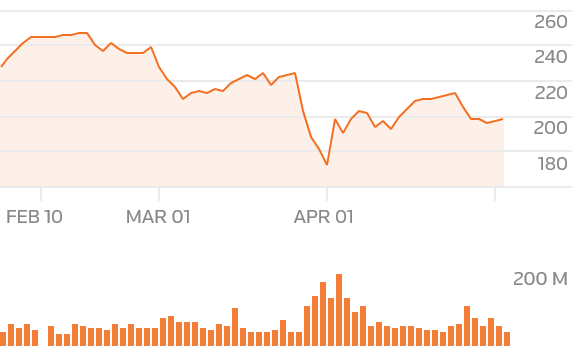 AAPL.O 005930.KS 6740.T 6753.T 034220.KS
MicroLED screens are flat panel displays that make gadgets thinner, brighter and uses less power compared with current OLED displays. The move to include this tech could also affect Apple's suppliers like Synaptics. Inc which makes chips used in touchscreen technology. Although the company is yet to give a comment on the following situation.