Almost all of us have WhatsApp on our smartphones. But do we really use its full potential? Here are 10 quirky tricks that you should know - Read More
There was the time of free SMS, then came Blackberry's BBM and suddenly in a blink of an eye, everybody was on WhatsApp. A micro-messaging platform that is so much fun and visually appealing. Almost everyone with access to the internet has it on their phones. Basically, a single favorite messaging service that made BBM look boring and text messages redundant.
Although we have plenty of options to socialize as there are a handful messaging services in the market. The superabundance of competition doesn't affect WhatsApp as it is by far the most simple and efficient messenger. It is a user favorite because it started when the concept of a micro messenger was relatively in a research state. Due to this head start, WhatsApp goes way back and it only means it has tonnes of features. Some tricks we are aware of and there is a lot more than what meets the eye.
We are sure some of you may already know about these helpful secret tips. But for those who don't here are 10 very quirky tips to enjoy the beauty of this messaging service:
#10| Hide the blue ticks
Those blue ticks can land you in a whole world of trouble, especially when you don't reply instantly and someone sees you have read their messages. You can turn them off, but it's worth noting that if you do, you won't get read receipts for your messages either.
Apple users: If you get Siri to read the message, the blue ticks won't appear so this could be a good way to read a message without the sender knowing you have.
iOS: Settings > Account > Privacy > Toggle off Read Receipts.
Android: Settings > Account > Privacy > Untick Read Receipts.
#09| Save your data allowance
If you've got a limited data allowance, you don't want WhatsApp munching it all away. Thankfully, you can customize when media is allowed to download, as well as ensure calls use as little data as possible.
iOS and Android: Settings > Data and Storage Usage > Media Auto-Download.
#08| Stop people seeing your messages
Ever passed your phone to a friend and instantly panicked about the messages they might see come through? Yeah, we haven't either. For those that have, you can turn off message preview on iOS so only the contact's name will appear, rather than their life story, or you can turn off notifications altogether.
In Android, it's not possible through the WhatsApp app but you can stop private information showing up on your lock screen in Android itself.
iOS: Settings > Notifications > Toggle off Show Preview / Settings > Notifications > Toggle off Show Notifications.
#07| Send a public message privately
Ever had a free evening and wanted to ask several of your friends if they are around without having to open up each chat to ask them separately?
You can send a broadcast message to a list of contacts with it appearing as though you've asked them individually. Great for saving time, terrible if they all reply yes.
iOS: Chats > Broadcast Lists > New List > Add contacts.
Android: Chats > Menu > New Broadcast.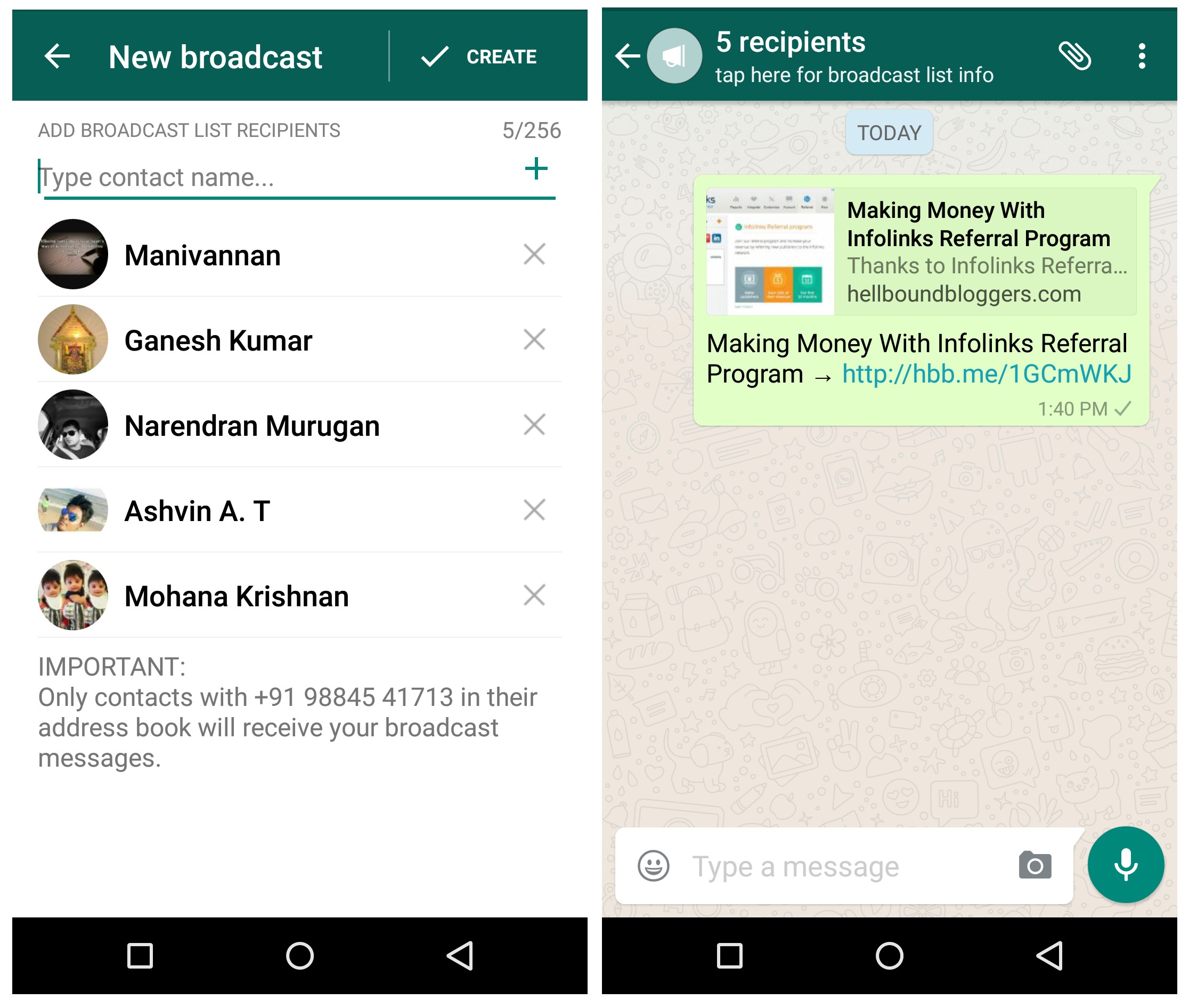 #06| Find out how long you've been ignored for
There is nothing more annoying than seeing those blue ticks appear without a reply following soon after. If you want to torture yourself a little more and find out when your message was actually read and how long you've been ignored for, you can. We don't advise it though.
iOS: Chats > Specific chat > Specific message > Swipe left to right.
Android: Chats > Specific chat > Specific message > Press and hold > Tap the info "i" icon at the top.
#05| Customise notifications
There might be certain contacts you want to know instantly if they are calling or messaging you. To make sure they don't blend into the crowd, you can change their specific alert tones so you recognize when that particular person has sent you a message or is WhatsApp calling you.
iOS & Android: Chats > Specific chat > Tap on contact name at top > Custom Notifications.
#04| Making voice messages mute
Everything is quite simple: hold your phone to your ear, and WhatsApp will change the loudspeaker mode to inner speakers. How does it know that you have held your phone to your ear? This app knows much more than you can imagine. Moreover, if you remove the phone in between the audio message, the app pauses the message. You can resume from where you left.
 #03| Turn words bold, italic or strikethrough
Sometimes certain words need more emphasis and shouty caps just isn't going to cut it. Don't worry, WhatsApp allows you to make whichever words or phrases you want bold, italic, or strikethrough them altogether.
iOS and Android: Add an asterisk either side of the word or phrase for *bold*. Add an underscore either side of the word or phrase for _italic_. Add a tilde to either side of the word or phrase for ~strikethrough~.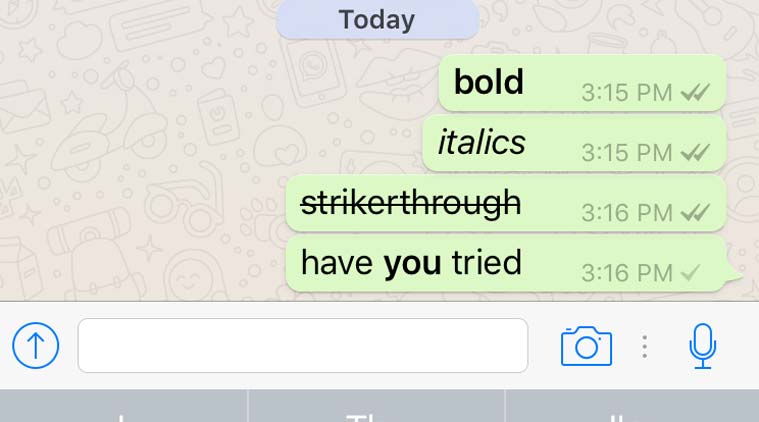 #02| Discover if someone else reads your messages
Open the Menu, and press WhatsApp Web. If the app invites you to follow the web.whatsapp link, scan the QR code, and use WhatsApp on your PC, it's good. It means that nobody else reads your WhatsApp from their PC using WhatsApp Web.
If you see a "Computers" tab and a list of open sessions (connections), which have nothing to do with your WhatsApp activity, it's a reason to get worried. This can signal that someone else is reading your chats and profile.
#01| Identifying a fake contact
Almost everyone can use a "free number" or a special app for SMS activation messages. Just try to call the contact if you want to check if it's a bot. Temporary ("free") virtual numbers are practically always offline or inactive.
Yes, that's right! Thank us later 🙂